Today's post is from Morris Proctor, certified and authorized trainer for Logos Bible Software. Morris, who has trained thousands of Logos users at his two-day Camp Logos seminars, provides many training materials.
With the recent release of Logos 5.1 comes a new automatic layout, making it easy to study a topic right from the Home Page. Give this a try and see what you think:
Open the Home Page.
Type a subject, like mercy, in the Passage/Topic box (

A

).
Notice the related subjects in the dropdown list (

B

).
Select Mercy from the list, or just click Go (

C

).

Logos now opens what I call the "default Home Page topic study screen." This automatic layout consists of:
1 window
3 tiles (

D

)

The left tile houses the Topic Guide (

E

), Sermon Starter Guide (

F

), and Bible Word Study (

G

).

The upper-right tile opens your preferred Bible to a passage about the topic (

H

).
The lower-right tile presents the first five resources (from your prioritized list of resources) containing an article about your topic (

I

).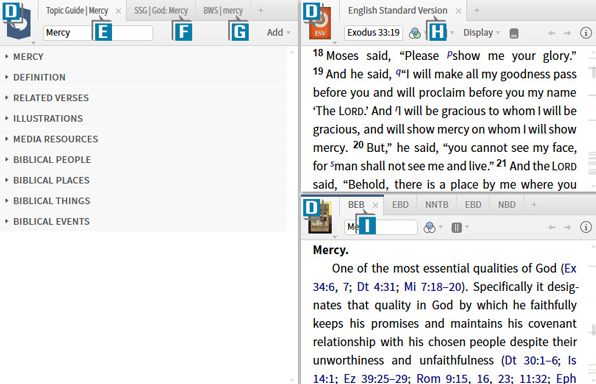 Please note that not all these guides open for each topic. For example, use temple as the topic and you'll see that the Sermon Start Guide doesn't open. This simply means that temple is not a preaching theme for that guide.
As you can see, as we investigate a topic, this new feature makes numerous guides and resources accessible with one click of the Go button!