Today's post is from Morris Proctor, certified and authorized trainer for Logos Bible Software. Morris, who has trained thousands of Logos users at his two-day Camp Logos seminars, provides many training materials.
In a recent Camp Logos, I was explaining how to do word studies with lemmas and Louw-Nida numbers. During a break, a participant pulled me aside to ask this question:
I see the value of what you're teaching, but I cut my teeth on Strong's numbers. Are these numbers still available in Logos, and if so, what's the best way to see them?
If you, too, are fond of Strong's numbers, I have good news for you: those numbers are indeed present in Logos, and they're easily accessible!
Open a Bible containing the reverse-interlinear option, such as the Lexham English Bible.
Navigate to a passage (

A

).
Click the Display link on the Bible's toolbar (

B

).

Check the Inline, Surface, and Strong's Numbers boxes (

C

).
Notice that the Strong's numbers are placed underneath the biblical words (

D

).
Click a Strong's number to open your highest-prioritized dictionary containing an article for that number! (

E

)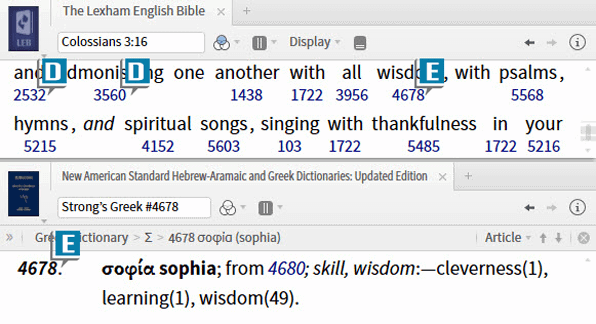 * * *
If you enjoy working with Strong's numbers, pick up Logos Bible Software Training vol. 2, which contains an entire chapter devoted to Strong's numbering system.
Or—for an even better deal—get the entire two-volume set!