Today's post is from Morris Proctor, certified and authorized trainer for Logos Bible Software. Morris, who has trained thousands of Logos users at his two-day Camp Logos seminars, provides many training materials.
As you add individual notes to a Note file, the document may become so long that locating and viewing one specific note proves difficult. The Split View in a Note file, new to Logos 4.6, solves that problem. Try this:
Choose File | Notes.
Name the untitled notes document that opens Mark Notes.
Open a Bible to Mark 1:1.

(A)



Right-click any word in Mark 1:1.

(B)



Select from the right-hand menu Reference Mark 1:1

(C)

| Add a note to "Mark Notes."

(D)



Type, copy–paste, or drag–drop information into the Mark 1:1 note's content area—the body of the note that is.
Repeat these three steps for additional verses in Mark.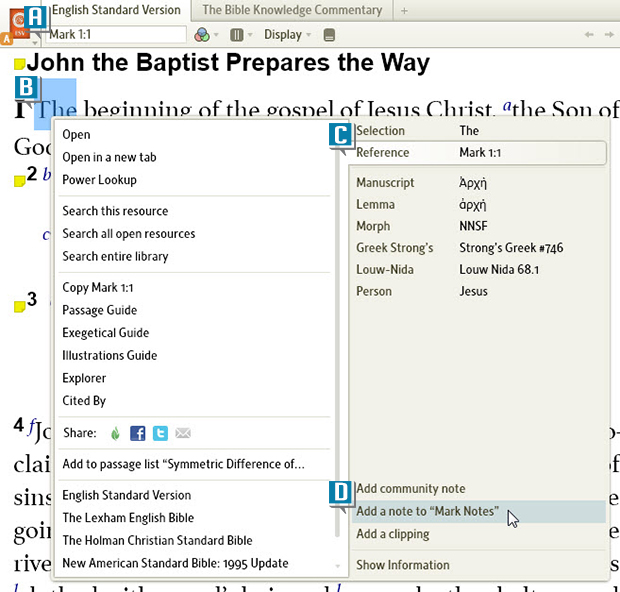 Click Split in the upper right of the Mark Notes document.

(A)

Note the individual notes in the left column and the single note in the right column.

Select a different note in the left column to change the note displayed on the right. (B)
Add additional information to this right-hand note by clicking in its content area. (C)