Today's post is from Morris Proctor, certified and authorized trainer for Logos Bible Software. Morris has trained thousands of Logos users at his two-day Camp Logos training seminars and provides many training materials.
A Logos user recently e-mailed me this question:
I want to study the images of the Word of God. For example: the Word of God is like a sword… How do I accomplish that?
Here's my response:
Perhaps the most straightforward way is to:
Open a topical Bible like Naves Topical Bible (1)
Navigate to the article for Word of God (1)
Click the plus sign to the right of its tab to open to others resources with a Word of God article like Zondervan Dictionary of Bible Themes (2)
Most of these topical resources have a section that lists the analogies with the Word (3)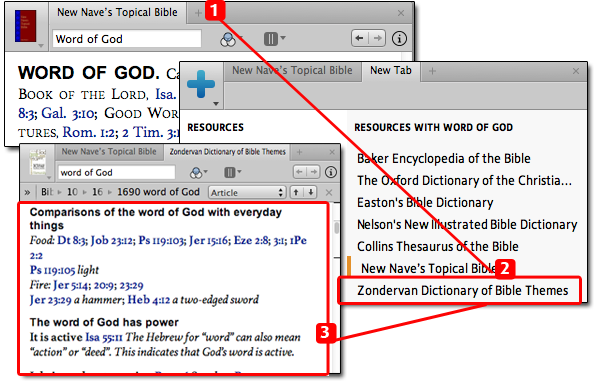 What is your favorite metaphor for the Word of God? Leave a comment and let us know!
Thanks for your feedback!