Today's post is from Morris Proctor, certified and authorized trainer for Logos Bible Software. Morris, who has trained thousands of Logos users at his two-day Camp Logos seminars, provides many training materials.
I've answered several emails related to the Logos Highlighting tool. This mark-up feature allows for user-created shortcuts, which save tons of time if you do a lot of highlighting. In case you're not familiar with this time-saving tip, here's how to create your shortcuts:
Choose Tools | Highlighting.
Click the arrow to the left of any pallet, such as Highlighter Pens.
Rest the cursor on the name of a style, such as Blue Highlighter.
Click the arrow drop-down list that appears to the right of the style name (A).
Click the Shortcut key drop-down list (B).
Click any letter, such as B for Blue Highlighter (C).
Repeat these steps for additional styles.
Close the Highlighting panel.
Select text in a resource.
Press a newly created shortcut keystroke, such as B for the Blue Highlighter.
Notice that your selected text is now highlighted in blue!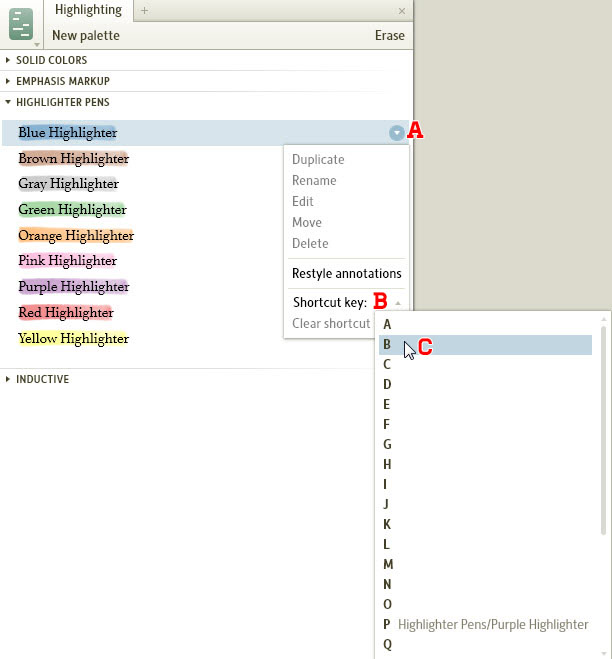 I encourage you to create shortcuts for the styles you use most often. This way you can read, select text, and press one key to mark it up. You don't have to keep returning to the Highlighting panel and clicking a specific style.
If you enjoyed this tip, please check out Timesaving Tips volumes 1 and 2.