Today's post is from Morris Proctor, certified and authorized trainer for Logos Bible Software. Morris, who has trained thousands of Logos users at his two-day Camp Logos seminars, provides many training materials.
 Some events in the Bible are recorded in more than one place. For example, the Ten Commandments appear in both Exodus and Deuteronomy. Qualifications for church leadership are listed in both1 Timothy and Titus. Passages in the Bible describing the same event are called parallel passages and a book containing parallel passages is called a harmony.
Perhaps the most popular harmony is a harmony of the Gospels, displaying in parallel columns the Gospels writers' accounts of the same historical event. To use this resource in print we would normally go to the table of contents and look up an episode in the life of Christ such as his temptations from Satan. The table of contents would direct us to Matthew's, Mark's and Luke's descriptions of the incident.
As you can see, there's a lot of page-turning involved in using a harmony in print. Logos, however, locates the same information with just one mouse click!
Type A Harmony of the Gospels in the Command box (1)
Drag the resource from the drop-down list that appears under the Command box to the Shortcuts bar (2)
Notice that Logos creates a shortcut icon to open A.T. Robertson's A Harmony of the Gospels (all Logos base collections except the Christian Home Library contain this book) (3)
Open a Bible to a passage in the gospels such as Luke 4.1 (4)
Click the new shortcut icon to instantly open A Harmony of the Gospels right to the page displaying Matthew's, Mark's, and Luke's accounts of the three temptations of Jesus!! (5)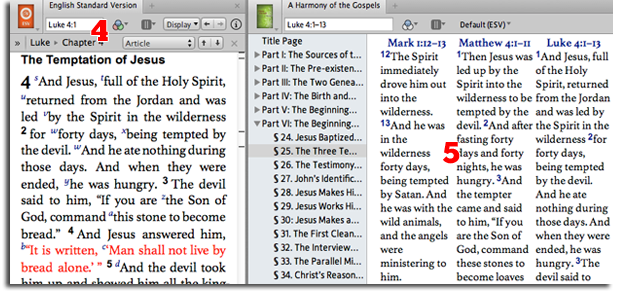 To see the other harmonies you own:
Open the Library
Type this text into Library's Find box: type:harmony
Drag from the Library to the Shortcuts bar harmonies that cover other parts of the Bible such as Synopsis of the Old Testament and Pastoral Epistles.
When you're reading in the Old Testament or the pastoral letters, click the appropriate icon to open the resource to the page showing parallel passages!
If you like this explanation of a harmony, then you'll enjoy the new training tool, Introduction to Bible Study with Logos Bible Software, in which I describe numerous Bible study resources and explain how to use them in Logos.
Thanks for your feedback!