Please read carefully the following sets of sentences.
First these:
I like spaghetti.
I love pizza.
Now these:
Even though I like spaghetti.
I love pizza.
Did you notice the difference? Both sets communicate the same facts: Moe likes spaghetti and loves pizza. The second set, however, builds anticipation with even though and adds emphasis to pizza!
This is an example of a discourse feature that Faithlife's own Dr. Steve Runge refers to as a counterpoint/point set. In fact, this construction, along with dozens of other discourse features, appears throughout both the Old and New Testaments—but unfortunately many have been lost in translation.
Dr. Runge, however, along with his colleague, Dr. Joshua Westbury, have identified and labeled numerous discourse features so we can see more clearly the details of Hebrew and Greek, even though we may not be language scholars.
PLEASE NOTE: These features are available in the Silver and above collections as well as in the Full Feature Set.
For example try this:
Open an interlinear Bible such as the NASB to Matthew 9:37 (A)
Notice the statements in the NASB:

The harvest is plentiful
The workers are few
This is basically the same construction as my spaghetti/pizza example. There is in the Greek text, however, a small word (men) that doesn't get translated. It's important because it's actually setting up the but and emphasizing the workers are few.
So let's take a look at the Discourse Features Visual Filter, which shows us this detail: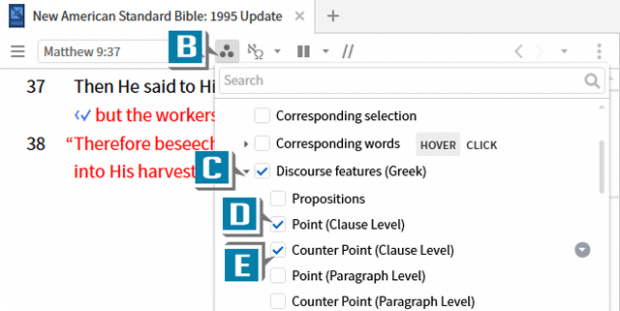 Click the Visual Filters icon on the Bible's toolbar (B)
Expand and select Discourse features (Greek) (C)
Select Point (Clause Level) (D) and Counter Point (Clause Level) (E)
Notice the:

  next to harvest is plentiful (F)
  next to workers are few (G)

Rest the cursor on a hyperlinked icon to see a brief explanation of the feature (H)
As you read Dr. Runge's remarks in the Discourse Features resources, you'll discover avery clumsy albeit accurate interpretation of the verse could be:
On the one hand the harvest is plentiful, but on the other hand the workers are few!
This subtlety in the Greek adds detail and emphasis to Jesus' admonition to pray for workers!
***
For more detailed Logos training, please check out 24/7 video training at mpseminars.com.