If you're like many Christians and Logos users, you enjoying reading a daily devotional as part of your quiet time. Fortunately, we can create a layout on the mobile app that quickly takes us to our preferred Bible and favorite devotional!
Give this a go: (the screenshots are taken from an iPad):
Tap the Panels View button on the navigation bar at the bottom of the mobile app (A)
Close all open panels
Tap the Bible button in the lower-right-hand corner of the Panels View (B) to open your preferred Bible
Tap the Panels View button again on the navigation bar
Tap the split view button in the upper-right corner of the Bible panel (C)
Tap the link Open from the Library (D)
Type the name of your desired devotional in the find box (E)
Tap the resource when you see it in the list (F)
Notice the devotional joins the Bible in the split panel (G)
Tap the Layouts button in the lower-left corner of the Panels View screen (H)
Tap the plus sign (+) in the upper left of the Layouts panel (I)
Name the Layout (J)
Tap Save (K)
Notice the new Layout has been added to the list (L)
Tap Done in the upper right of the Layouts panel (M)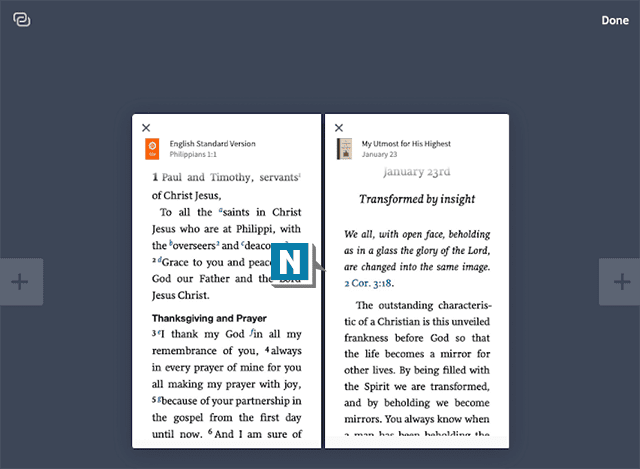 Tap on the panel in the panels view screen to return to the reading screen (N)
Tap the Home button on the navigation bar to jump to the Home screen (O)
Notice in the Dashboard section a Layout card, which opens your newly created Daily Devotional Layout (P)
Tap the card to open the Layout
#13
Tap the Contents button to the right of the day-of-year box (Q)
Tap Today in the list to move the calendar devotional to Today's reading! (R)
Tap a Bible reference (S) and then Jump to reference (T) in the daily devotional to look up the passage in your preferred Bible!
I realize there are several steps to initially set up this Layout. The good news, however, is the hard work is now over. Just tap the Layout card on the homescreen, then the Today link, and you're good to go!