Here's a situation-specific question from a Logos user, but thought you may find it interesting:
I speak in various churches which of course have their preferred Bibles. As I prepare my sermons with Logos I like to use the Bible of choice for the church I'll be visiting. Is there a way to change my Logos preferred Bible without having to revisit prioritized resources in the Library each time?
This is a power user question with the power user answer of: Yes! We can designate our preferred Bible with the Go box!
Give this a Go (pun intended):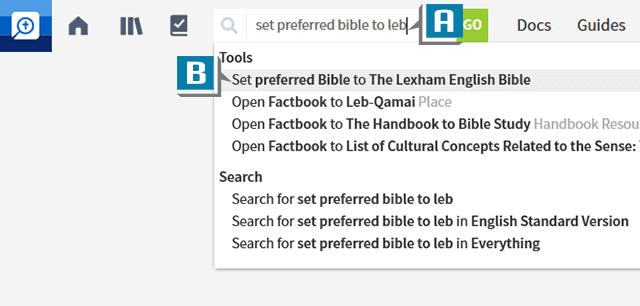 Type this command in the Go box: set preferred Bible to LEB (A)
Select this line from the Tools section in the drop-down list: Set preferred Bible to The Lexham English Bible (B)
That's it! You just changed your preferred Bible to the LEB. Obviously, you'll use the appropriate abbreviation for your preferred Bible: NASB, KJV, NKJV, ESV, etc.
For more suggestions about Go box commands, check out your Logos Help resource.
And for detailed 24/7 video training please consider a subscription to MPSeminars.com.