As I've said before, I enjoy questions from fellow Logos users because features and frustrations are referenced that I may not think to include in a blog.
Here's a case in point:
I'm working in 2 Timothy 1:9 where Paul says we're not saved because of our works. I've executed a search on the word "works." Now I want to search for the singular form "work," but every time I try to select just the word "work," Logos automatically selects the entire word. It's not a huge deal. I know I can type the singular form in the search box, but I sure like using the right-click for searching. I'm sure there's a setting somewhere I'm overlooking. If so, can you direct me?
Great question that arose out of daily use of Logos! There is indeed a setting that allows us to select a letter/character at a time rather than an entire word.
Check this out:
Choose the Help (App) menu in the upper right of the program (A)
Select Program Settings (B)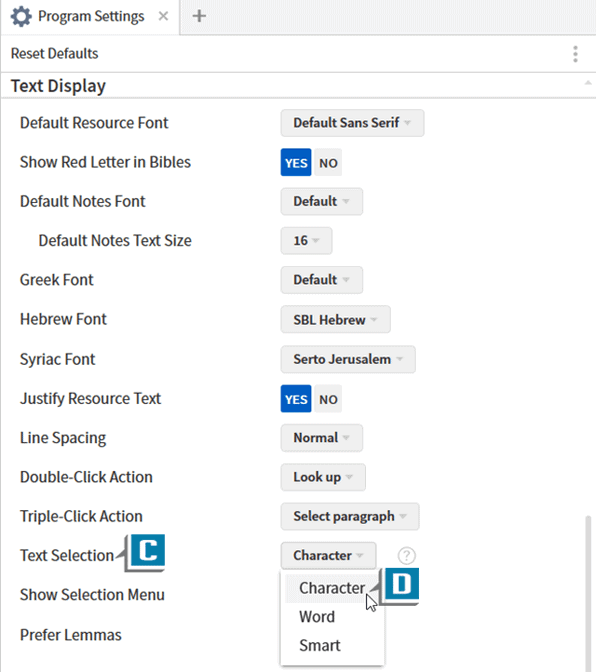 Navigate to the Text Selection line toward the bottom of the Text Display section (C)
Change the drop-down option to Character (D)
Now when you select (highlight) text in any Logos resource, you're in charge! You'll only be selecting one letter at a time.
For more practical tips like these as well as in-depth Logos video training, please consider a subscription to mpseminars.com.