I remember the days of midweek church.
We'd gather Wednesday nights for a scaled-down version of Sunday morning: a little singing, some prayer, and meatier teaching.
The kids would be dismissed for age-appropriate classes, while the adults stayed in the sanctuary for lecture- or discussion-based lessons. It was an effective way to get our whole church body growing in biblical literacy.
Times have changed, and midweek services don't seem to be as common, but churches are still thinking of creative ways to increase biblical literacy.
Faithlife has developed a free tool to help your church gather around God's Word, even when your schedules don't allow. It's called Faithlife Groups, and here's how you can use it for church-wide online Bible studies.
1. Host online discussions
Faithlife Groups is a free online community space for your church. You use it to communicate, plan events, share prayer requests, and more—including hosting online discussions.
Later in the post, I'll show you how to invite people to those discussions, as well as upload curriculum to get conversation going, but first I want to show you how the tool actually works.
In Faithlife.com, you can either host discussions right in the church's main newsfeed—think of it like a Facebook group newsfeed—or use the Discussion tool for a more organized approach, which is what Faithlife recommends.
(To turn on the Discussions option, go to the Admin section of your Faithlife group's menu. Expand Settings and click Group Features & Permissions. Then scroll to the bottom of the list and toggle Discussions to Yes. You'll then see the Discussions option in the Community section of your Faithlife group's menu.)
For example, here's how you might get people discussing Mark 1: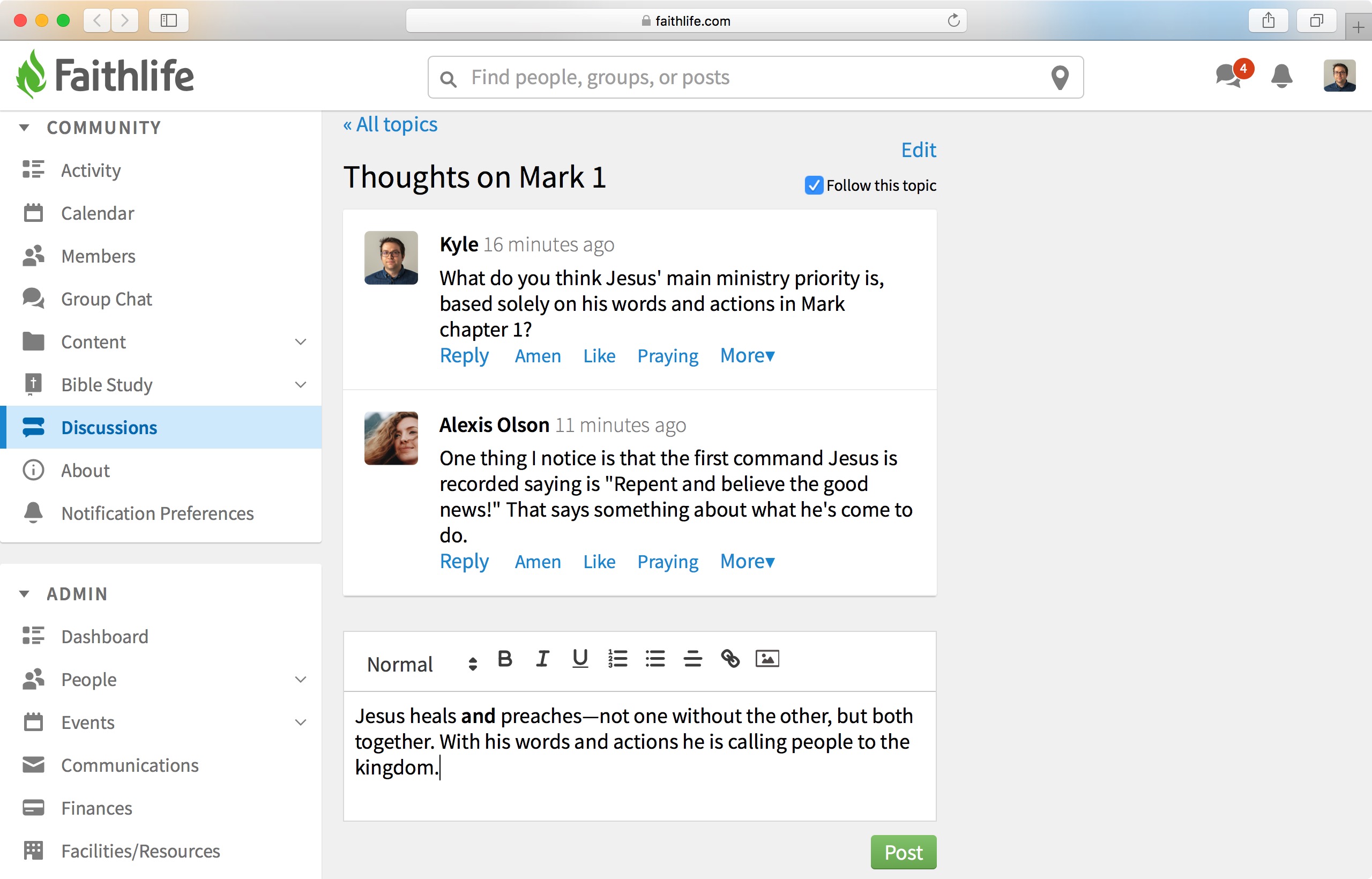 You could even pair the Discussion tool with the Calendar tool, so people know what to read and discuss on which day.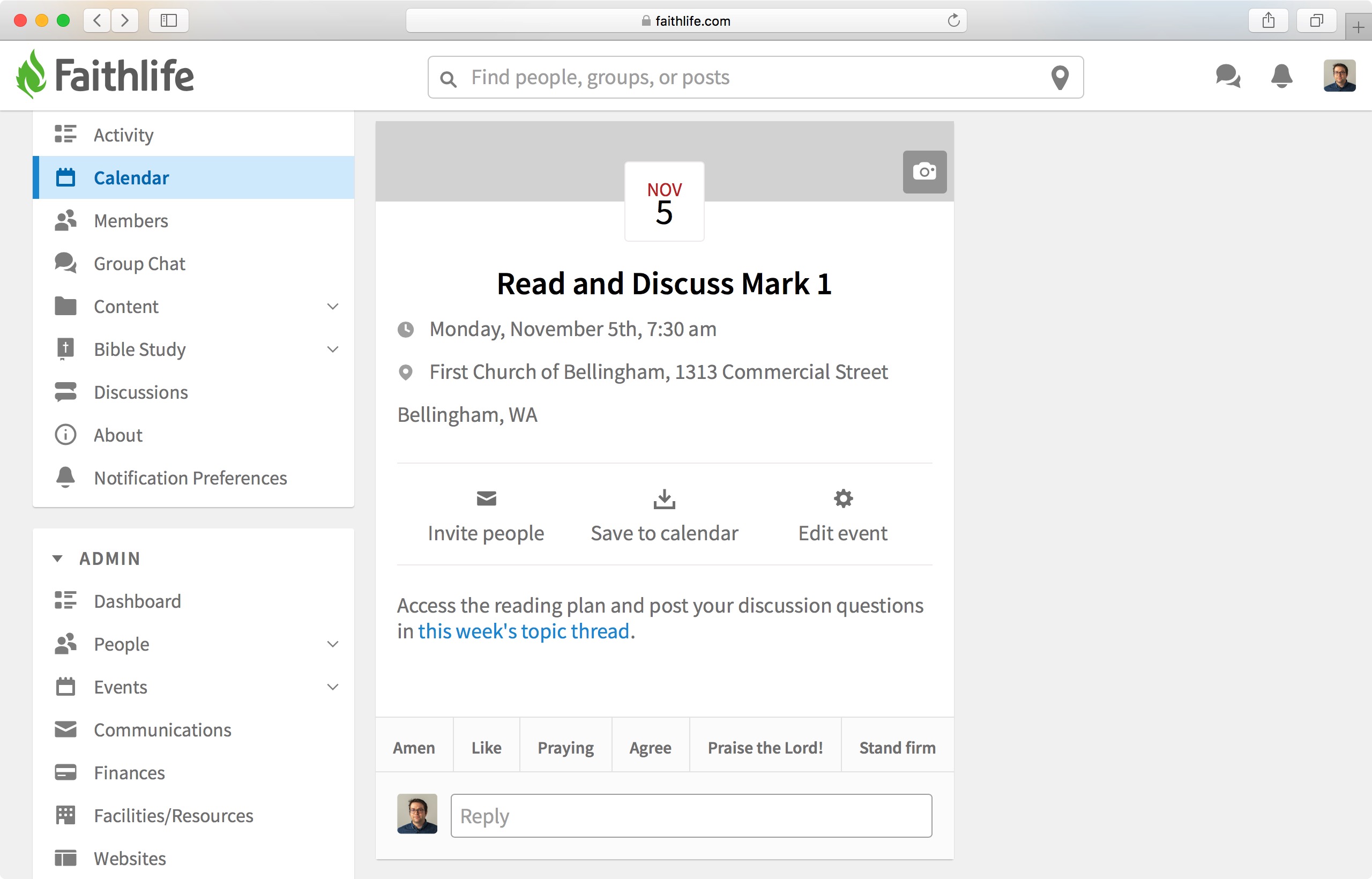 Anyone can save the event to their calendar of choice with a simple click or tap, and they'll be reminded to participate as the time comes near.
Also, as the group administrator, you can edit the event and adjust who can invite others to the group.
As you can see, this tool can work well on its own or supplement in-person Bible studies. For example, you could post notes/announcements about the gathering right there in the calendar event (e.g., "Remember everyone, we're doing a potluck before Bible study tonight. Bring a side to share at 6:00—discussion and starts at 7:00").

2. Invite people
There's no discussion without people.
The next step to starting an online Bible study—now that you know how the discussion tool works—is to invite people to your church group.
You have unlimited groups with Faithlife. You can have a group for your whole church, plus subgroups for small groups, specific ministries, and more. And you can adjust privacy settings according to the group.
Once people are in groups, they can see and access anything posted there. They can also interact with each other through instant messaging, prayer requests, and more.
Try it now: create a Faithlife Group for your church, then invite people to it.
3. Upload curriculum
By the time you reach Step 2, you're actually ready to host online Bible studies.
Everything I'm about to say is extra—tools you can use to take studies deeper.
I'll break down the options from easiest to most complex (which still isn't that complex):
1. Upload your own curriculum (Free). Upload PDFs, text documents, videos, and more. In this way, Faithlife Groups is a file-sharing solution for your church (like Dropbox or Google Drive, except it's attached to the rest of your church's online community). Uploading content to Files under the Content tab in Faithlife is the best place to do this.
2. Generate Bible reading plans (Free). Generate and upload reading plans from the Logos or Faithlife Study Bible apps. You can also attach your notes to those reading plans. For example, let's say you want to take your church through Revelation, but you want to offer some explanation on tougher parts. You can put a note in the digital Bible text, and if you make notes visible to anyone in your church group, they'll see it when they read (if they are signed into their account and have the Community Notes visual filter turned on). You can also see these notes in the Community Notes section under the Bible Study tab in Faithlife.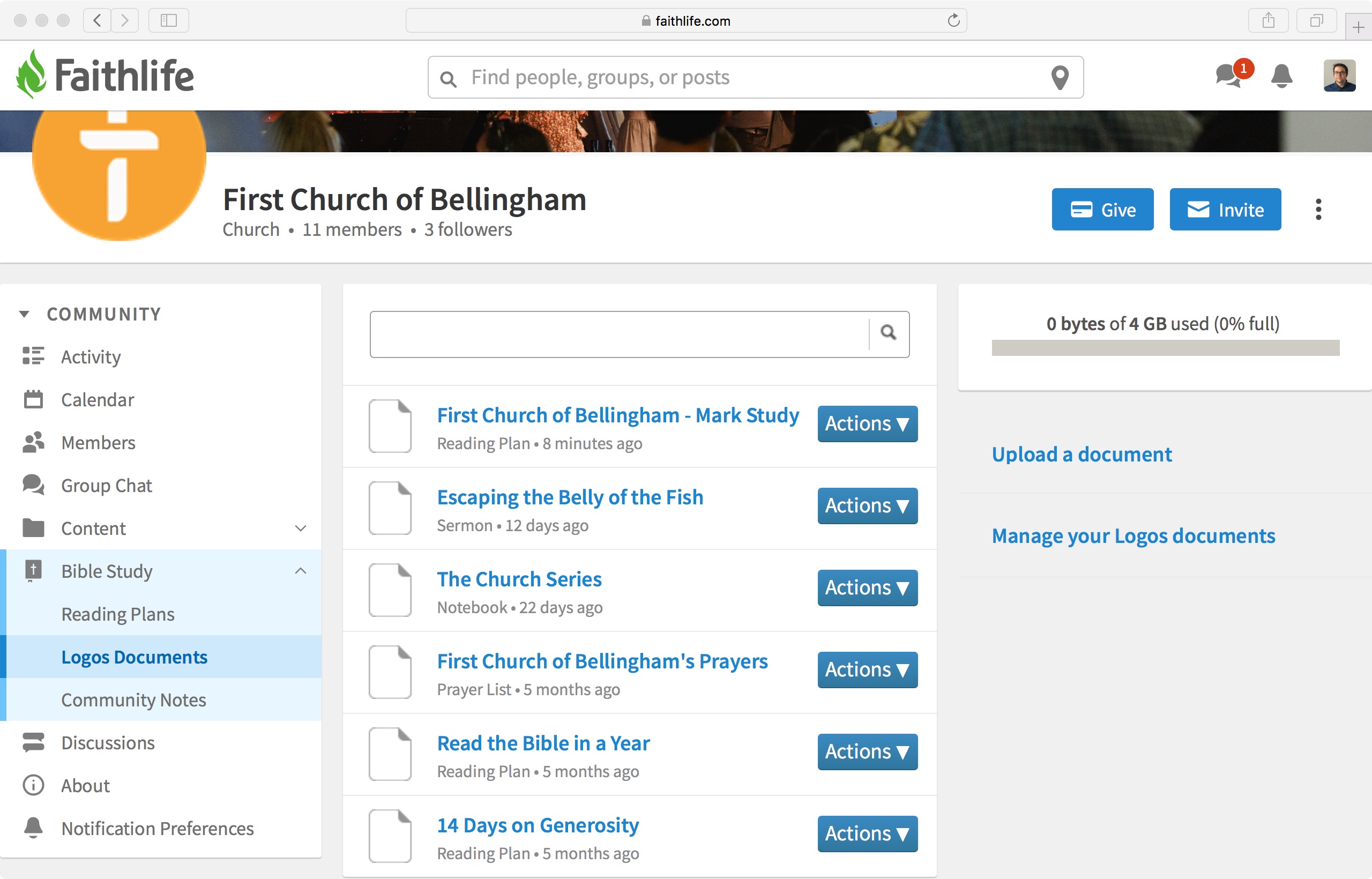 3. Videos. There are two ways to use video to supplement your Bible study, and one is free. Create an account on Faithlife TV and you can access dozens of free videos, including wonderful Bible-based content from The Bible Project. Second is to get your church a massive video library through Faithlife TV Church. You unlock over 7,000 hours of Bible, theology, and ministry courses for your whole church, including all the content in Faithlife TV Plus. You can share segments through Faithlife Groups to turn these videos into a curriculum of sorts, simply by pasting a video link.
In summary
Okay, that was a lot. So where should you start?
Here's a roundup of how to get started, and the free tools to get along the way:
Create a church group (Free).
Get the Faithlife Study Bible app (Free). This is a wonderful resource you can use to generate Bible reading plans, and everyone in your church can use it free, too.
Start a discussion in your church group (Free).
Create a Faithlife TV account (Free). Browse the collection to find videos you want to share with your group.
Noticing a pattern? These tools are all free, and they're all integrated to make it easy to host online Bible studies right from your church's Faithlife group.
Running church-wide Bible studies can have a big impact on your church's biblical literacy. More and more people are using technology as a tool for spiritual growth, and these free resources can help you grow your church in God's Word.
Take the first step: register to create a free account at faithlife.com. Already have a Faithlife account? Start your church's free group on Faithlife.
Related articles