Datasets exist all throughout Logos Bible Software. These sets of "labels," such as Promises in the Bible, Questions in the Bible, Speech Acts, Preaching Themes, and a host of others, all help us conduct biblical research.
However, what exactly are these datasets, and how were they developed? Fortunately for us, explanations have existed within the software for years, but we had to know where to find them in the Library. With Logos 9, though, those explanations are just a click away on the redesigned Help menu.
Check this out: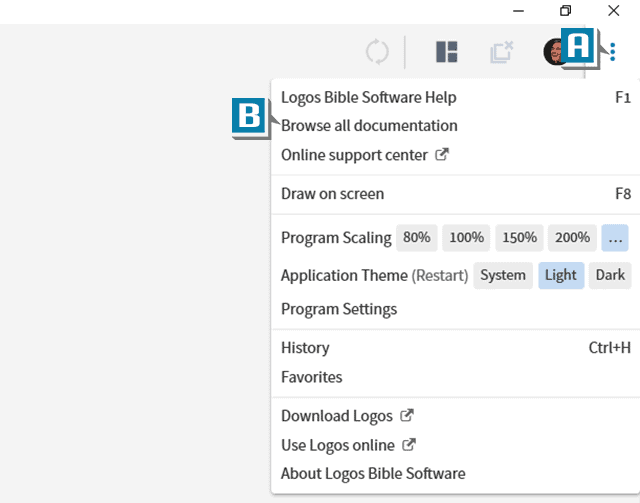 Click the Help/App menu (3 dots) in the upper right of the program (A)
Select Browse all documentation (B)
Notice the Library opens with the filter type:manual already applied (C)
Click a documentation resource to open it and read about a specific dataset (D)
As you come across a dataset in the software, invest five minutes to open its documentation resource to further understand how it works. This investment of a few minutes will pay great dividends as you work with various datasets.
For more detailed training about the redesigned Help menu as well as all Logos 9 features, check out a subscription at mpseminars.com, which includes approximately 200 videos on Logos 9 alone!
And if you'd like to view at your convenience the FREE QuickLook at Logos 9webinar, you can register here! During this 80-minute webinar, I'll introduce you to all of the Logos 9 changes!
Follow the Morris Proctor Seminars Faithlife group
When you follow Morris' faithlife.com/mpseminars group, you'll automatically receive a FREE digital download of Dr. Grant Osborne's commentary, Ephesians Verse by Verse.