I received an inquiry about the Factbook that reminded me I need to pass along "an oldie but goodie" trick, especially for new Logos users.
First here's the question:
I really like the Factbook, but when I click a link in the See Also section, I leave the current article and jump to the new one. I then have to click the back arrow to return to my original location. Is there a way to open multiple Factbooks at the same time?
So to see the answer in action, let's set up the same scenario: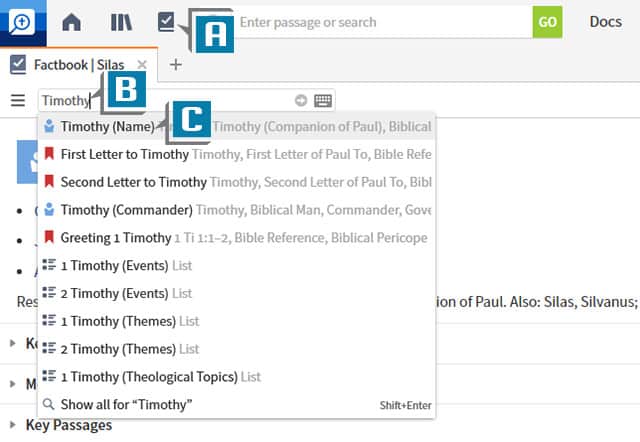 Click the Factbook icon on the main Logos toolbar (A)
Type Timothy in the subject box (B)
Select Timothy (Name) from the drop-down list to generate a report for the person Timothy (C)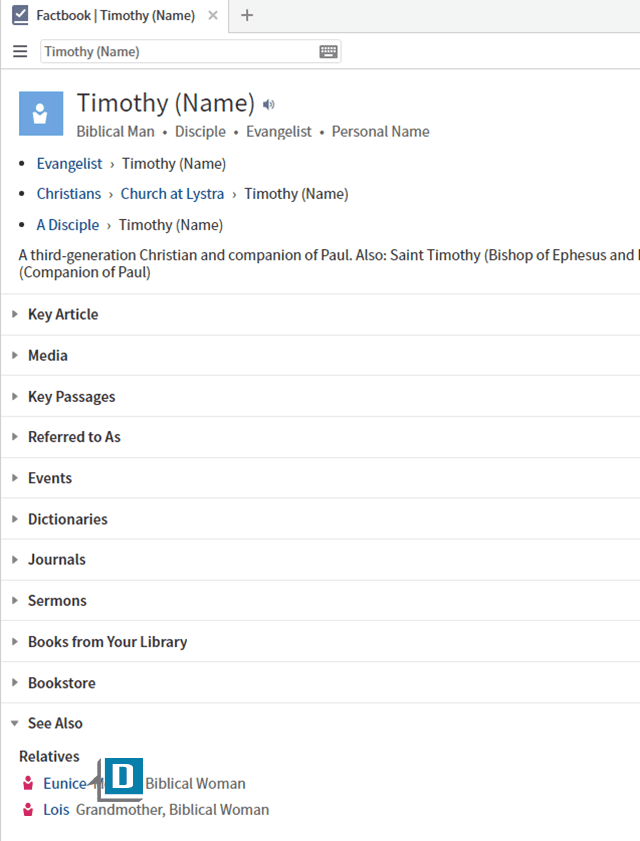 Click Eunice in the See Also section (D)
Notice the Factbook leaves the Timothy article and moves to the Eunice article (E)
Click the Back arrow in the upper right of the Factbook to return to the Timothy article (F)
Click, hold, and drag the Eunice link to a different place on the screen (G)
Notice the Eunice article opens in a separate Factbook panel! (H)
The trick is simple: drag and drop Factbook links to open new Factbook panels!
For more detailed training about the Factbook and other Logos features, please consider a subscription to mpseminars.com where you'll find thousands of videos to help you become proficient both in the desktop and mobile formats of Logos Bible Software!