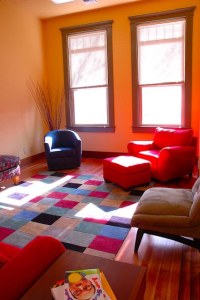 Identify the normal way of doing things, then do them one better. That's part of the Logos way and sometimes it leads us down unexpected paths.
In this case, it led us to launch Room2Think, a creative meeting space that Bellingham-area business and non-profits will use for off-site retreats.
When we moved into our new space last November, we vacated about 2,500 square feet of office space that had been used to house the text development department.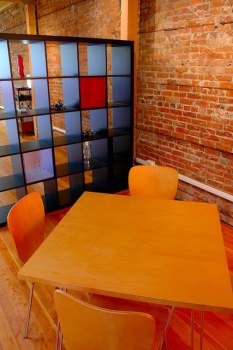 That space—which has a very cool loft-like vibe with beautiful hardwood floors and exposed brick walls—has now been converted into a comfortable, fully-furnished, brightly decorated, creative meeting space.
The name 'Room2Think,' inspired by the high ceilings and airy feel of the space, suggests its intended purpose: provide groups with a place to get away from the daily grind and drab office, open up to new ideas, build teamwork, get creative, and dream for the future.
Room2Think shares this purpose with a growing list of similar "creative meeting spaces" around the country. In fact, we were inspired by this article in Inc. magazine which mentioned places like Sparkspace (Chicago) and Inspiration Point (Pittsburgh).
We thought it was such a great idea (and a step up from the usual, boring, hotel conference room) that we went ahead and created a space like this for Bellingham!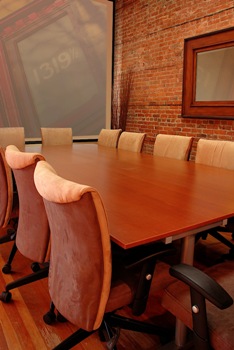 We didn't take the "kindergarten classroom" motif quite as far as the places described in the Inc. article, but Room2Think is definitely a hipper and more fun place than my house.
Here's why: wall-sized projection screen, Dolby 5.1 surround sound system, automated espresso maker (not quite as cool as our famous machine but it makes a good cup), wall-sized whiteboard, comfortable seating for up to 20 people, ping pong, air hockey, and all the office supplies needed to dream and plan.
Check out the photos! And see what the local paper had to say about Room2Think.
We're excited to play a role in promoting creative thinking and planning among local businesses. And Logos will be using the space now and again, too…so I guess it's fair to expect even more new and creative features from your Bible software.
Was This Article Helpful?