Where do we turn in times of trouble?
Harold L. Senkbeil, longtime Lutheran pastor and award-winning author of The Care of Souls, wants us to remember the God who understands our emotional, physical, and spiritual suffering.
In Christ and Calamity from Lexham Press, Senkbeil beckons us to be honest about our struggles and take them to "someone who can do something about it." It's a short, beautiful book written by someone who knows and has experienced God's deep love for his people.
I read the book in one sitting a few nights ago, and it was a balm to the dry places within my soul. Reading the book was a worshipful experience, with prayers and Scripture embedded throughout. It's an excellent book for trying times, though it would also be great for small groups to read together.
Here are 10 of my favorite quotes from Christ and Calamity: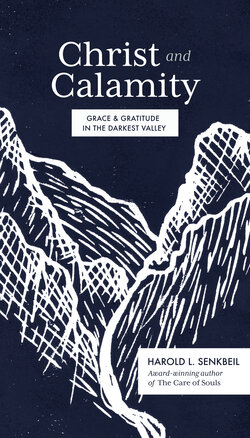 Peter doubted for the same reason you and I doubt when we're faced with uncertainty and calamity. We wonder what's to become of us. Sometimes our fear can be overwhelming. We're fearful in the face of tragedy and the unknown because we've never passed this way before; the terrain is unfamiliar, and the perils are formidable. Fear is a perfectly normal response in these situations.1
These psalms of lament teach us how to file a complaint with God. And complaining isn't whining; if you've ever read your medical records, you'll know that medical complaints are simply the physical symptoms of your distress. When you go to your doctor, you aren't whining; you're just explaining where you hurt. You list your complaints because you know your condition should receive attention. It may not go away; some of the symptoms may remain. But you've gone to someone who can do something about it.2
That's the secret to maintaining an even keel in storm-tossed situations and to finding persistent hope in the midst of your suffering: seeing your affliction as your personal link to Jesus. Because he is "a man of sorrows and acquainted with grief" (Isa 53:3), you can be sure you are not alone in your suffering.3
The cosmic riddle of evil cannot be solved using human reason and our unaided senses. Rather, as we undergo the reality of human calamity and pain, we need to be guided by the Holy Spirit through his word: ultimately, you don't solve suffering—you endure it.4
Ever since Eden, God has disguised himself to get closer to us mortal beings. He hides his glory in shame, his power in weakness, his riches in poverty, his majesty in lowliness.5
You and I describe things with our words, but God's word makes things. That's what sets God's word apart from human language. I can tell you "don't worry," but that doesn't mean a lot. When Jesus says, "Come to me, all who labor and are heavy laden, and I will give you rest," he actually lifts our burdens, calms our weary souls, and soothes our frazzled hearts (Matt 11:28).6
Prayerful meditation isn't about pretending everything's fine when it's not. It's not about developing resilience by getting through tough spots using your inner resolve and determination. You can get through for a while by pretending. But you'll wear yourself out—first emotionally, then physically. Ultimately, you'll be a spiritual wreck as well. Masks are fine for preventing respiratory infection, but life is no masquerade; honesty is always your best policy.7
In stormy seas of uncertainty and deep, dark valleys of despair, when we sense nothing but fear and dread, his hand still leads and his love still supports us. Through every long and lonely night of misery God himself stands guard, holding us safe and secure. Darkness is no threat to him.8
Jesus teaches us to face our losses and disasters by taking each day as it comes, assured of the blessings he gives us by faith and thus confident in the Father's lovingkindness. He does not belittle our fears. He shares our flesh and blood, and so knows full well that anxiety comes naturally to the human heart. What he tells us instead is not to be anxious about tomorrow.9
Anxieties cannot be avoided. You can't just wave them off like you would shoo away a fly. You don't flip some internal switch to deactivate anxiety. Rather, as Peter says, you need to give your anxieties to God, "casting all your anxieties on him, because he cares for you" (1 Pet 5:7). God really does care. His love is not just lip service. God's love led him to give up his only-begotten Son to the death of the cross so that whosoever believes in him will not perish, but have everlasting life. There's your hope, right there: life everlasting.10
***
Suffering and adversity are part of living in a broken world, but Christ and Calamity—is a powerful reminder that God hasn't forgotten us, he cares, and he's with us in every dark valley.  
Pick up the Logos edition or audiobook now. You can read it from any device, including the Logos mobile app, web app, or desktop app.