In a previous post, we saw how the Bible Sense Lexicon is like a net that, when homonyms get you tangled up, lets you capture only the exact meanings you want. Here we continue by looking at how extensions of a meaning can entangle you, too.
Consider the verb "fish." It seems like a relatively straightforward word, meaning "to catch or try to catch fish." But have you ever "fished" for your keys in your pocket? Have you ever seen someone "fish" for a compliment? Word meanings can extend in any number of ways.
Specialize your searches
Common biblical words often have a myriad of extended meanings. Take, for example, the Hebrew and Greek words for "house." These words can refer to a house (the physical building), a family (i.e., the people who live in a house), a people group (as in the house of Israel), or a temple (i.e., the house of YHWH), among other meanings.
Now imagine you want to do a Bible study on the temple when it's referred to as God's "house." With a regular search in English, this is almost impossible—there's no uniform way the temple is referred to as God's house across translations. Sometimes it's called "the house of the Lord," sometimes "the house of God," sometimes just "the/this house"; sometimes translators render "house" as "temple." (For example, in the New American Standard Bible, 2 Chronicles 32:21 reads, "And when he had entered the temple of his god," where temple is the Hebrew word for "house.")
We can try a few of these searches to get a feel for the difficulties. First, let's try to be as general as possible:
Open a search box.
Type "house" in the search box and click enter.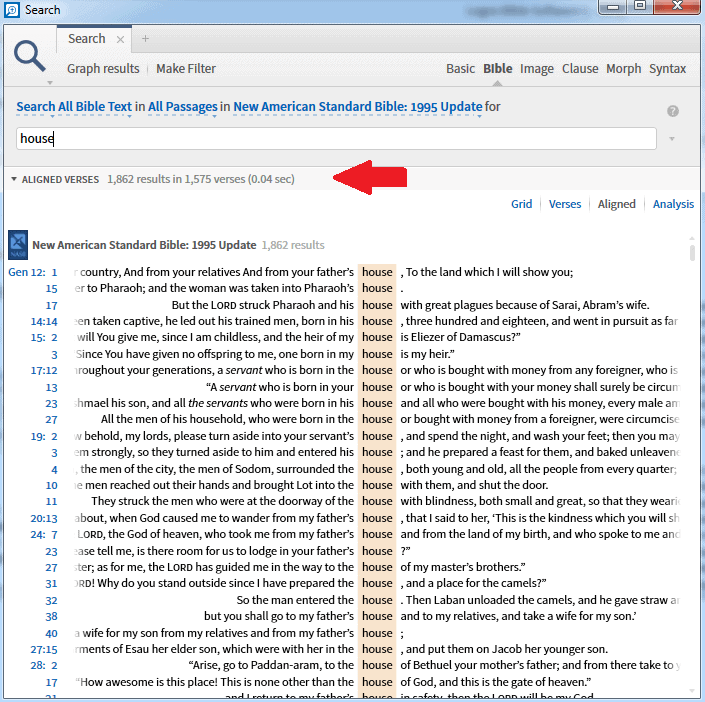 As you might have guessed, this is not a very useful search—it gives over 1,800 results! Let's try to be more specific, but before we do, let's make sure we're not missing anything.
In the open search box, click your preferred Bible and change the setting by clicking "Top Bibles."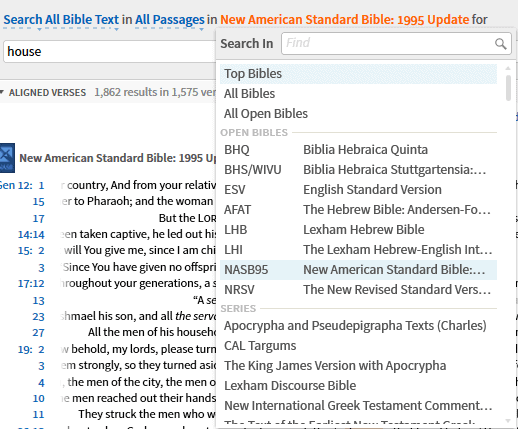 Now let's search our top Bibles for something more specific: type "house of the Lord" (with quotation marks) in the search box, and click enter. Scroll through the different headings in the search results, and see how many hits you got in each of your top Bibles.
Here's a sampling:
No Bible produces the same results, and we haven't even looked for "house of God" yet!
This is not to speak badly of Bible translations; it's only to point out the Bible translations weren't really created with search in mind. Could there be a better way to find all the places where the temple is referred to by the concept of "house"?
First, open the Bible Sense Lexicon in Logos 5.
Next, type "house" in the Bible Sense Lexicon's search box.
Mouse over any item in the dropdown to discover if it has the meaning you're looking for.
Click the label for "temple ⇔ house" in the dropdown.
We get 631 results for this meaning of "house"! These will be all the occurrences of this meaning, regardless of whether the text says just "house" or whether it says "house of God / the Lord."
Finally, mouse over the verse references in the Bible Sense Lexicon panel, or click them to see the verses in context:
Don't waste your time constructing searches that might not get you the results you want. Cast your net more wisely: check out the Bible Sense Lexicon.
Get the Bible Sense Lexicon by purchasing or upgrading to Gold today!