I was recently reading in Genesis 12, when the Lord calls Abram to leave his homeland and travel to a God-appointed location. Of course this event is recorded in Genesis 12, but I was curious as to where else this event is mentioned in Scripture. With Logos, a search like this is a breeze! Here's how to find this answer:
Open a Bible containing the interlinear option to Genesis 12:1 (

A

)
Right click on any word in verse 1 (B)
On the right side of the Context menu, select the event God calls Abram (C)
Then on the left side of the Context menu, select the tool Factbook (D)
Notice Logos builds a report for the event God calls Abram (

E

)
Expand the Passages section (

F

)
Notice the Key Verses sub-section which displays Genesis 12:1-5 where the event originally occurred (

G

)
Notice the See Also sub-section which lists other places in the Bible where this event is mentioned (H)
Click the link Open 6 passages in preferred Bible to display only these verses in your Bible (

I

)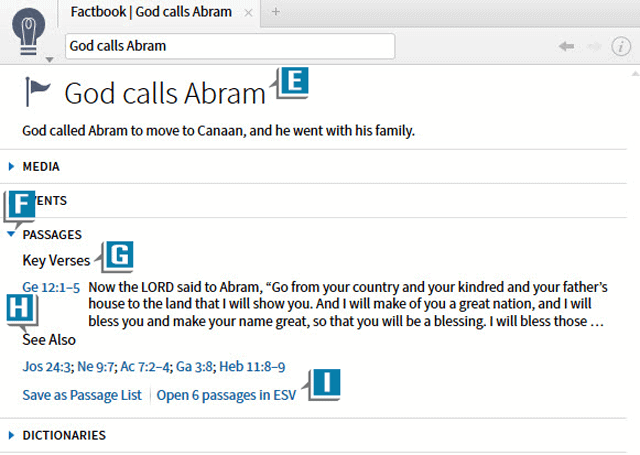 Now with your Preferred Bible open to the verses tagged with the event "God calls Abram ", you can easily see everywhere in Scripture this event is mentioned! (J)
This simple feature utilizes Logos' extensive tagging with the Factbook tool to empower you to find answers fast; much faster than the time it would take to track down multiple cross-references. Use the Context menu and event tagging feature to discover more significant events mentioned across Scripture—just right click in your Bible and look for "Event"!
For more detailed information about events and the Factbook, please check out the Logos 6 Training Manual Volumes 1 & 2 Bundle or attend our upcoming Camp Logos in Phoenix, AZ.

Morris Proctor is a certified trainer for Logos Bible Software. Morris, who has trained thousands of Logos users at his two-day Camp Logos seminars, provides many training materials.