With Christmas right around the corner, you're probably already getting asked by family and friends for gift ideas. Why not create a wish list of the Logos products that you've been wanting to add to your library? If you're like me, you'd prefer new resources from Logos over, well, just about anything else.
There are several sites that allow you to create a wish list and send it to your family and friends. Two you might want to consider are Google's Wish List and Kaboodle.
Google's Wish List
Google's wish list is basic and easy to set up. Start by setting up an account. Then go to Logos.com and find your favorite products (e.g., Scholar's Library: Gold – Logos Bible Software). You'll also want to have a separate window or tab opened to http://www.google.com/products. Copy and paste the exact product title into Google Products and search. Then click "Add to Shopping List."
To add it to your wish list, check the "In Wish List" box. Add any notes like priority, etc. Repeat this process for your other wish list items. When you're ready to share your wish list, click on "My Wish List" in the left hand column.



Drop that link in an email, and all your friends and family will be able to see what you want. Here's an example of a link you'd share: http://froogle.google.com/shoppinglist?a=SWL&id=ae8474ec…44a76fe6ac1.
While it is clean looking and simple, there are a few downsides to using Google's wish list: (1) you can't add items to your wish list directly from another website, (2) your wish list link isn't very memorable (or short!), and (3) those who purchase from your wish list run the risk of duplicating what someone else already purchased for you. (They'll just have to make it a collaborative effort.)
Kaboodle
Another, more advanced option is Kaboodle. One of my favorite things about Kaboodle is that it allows you to add things to your wish list on the fly. So as you're surfing the Logos website, you can click the "Add to Kaboodle" button, and the product you are looking at is instantly added to your wish list.


The Kaboodle plugin is available for Internet Explorer and Firefox.
Here's an example of a Kaboodle wish list link: http://www.kaboodle.com/philgons/wish-list—much shorter and more memorable than Google's. Kaboodle also has the advantage of allowing people to reserve items that they have purchased for you, so you won't receive duplicates.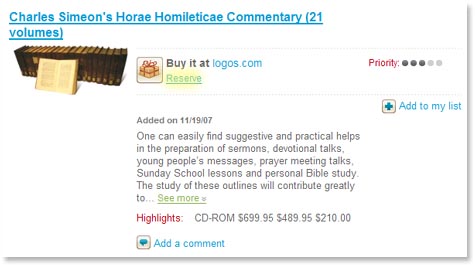 Kaboodle has more of a cluttered feel to it with ads and such, but in my opinion is the better of the two options.
Have fun creating your own wish list!