As you've probably discovered, the Logos 9 Factbook continues to expand and play an ever-increasing role in the software. The recent release of Logos 9.6 proves those points as it brings a contents sidebar to the Factbook. In other words, we can now see at a glance all that the Factbook has to offer!
Take a look at this:
Click the Factbook icon in the upper left of the program (A)
Click the new sidebar icon in the upper left of the Factbook to toggle on the contents pane on the left (B)
Click the drop-down category list to see a directory of major Factbook topics (C)
Select

a category like Person (D)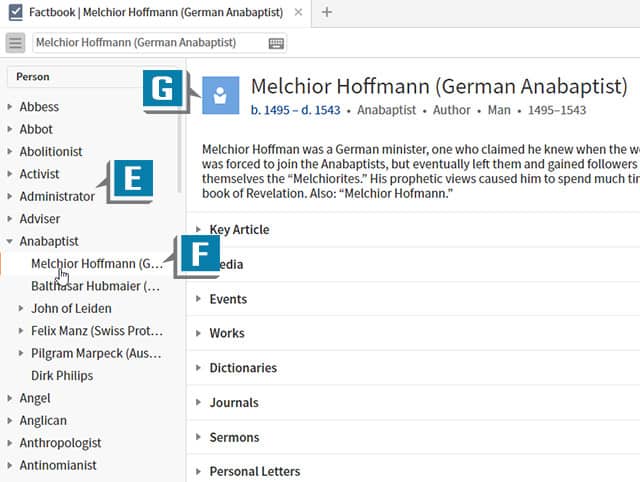 Notice now an alphabetically listing of all the people (specific and general) the Factbook covers (E)
Select an item in the sidebar (F) to generate a Factbook article for that subject (G) (You can continue to type a topic in the Factbook reference box as you've always done)
What I appreciate most about this new contents pane is that it allows us to see just how vast the Factbook really is. If you're like I am, you've consistently used the Factbook to study people, places, and things. The new contents pane, however, reveals thousands of subjects we can investigate! This is another reason in Logos 9 we can begin (and perhaps end) our research with the Factbook.
For detailed training about all the new Logos 9 features please consider a subscription to mpseminars.com.