Today's guest blogger is Adam Navarrete, who works in the marketing department here at Logos.
A few weeks ago, I started renting and watching HBO's John Adams. It has been an interesting and exciting series to watch. I chose the optional facts-popups to display during the episodes in order to learn about the underlying facts that are relevant to the scene, and have to say that I have found a new patriotism welling within me. Not wanting to miss further facts, I went down to my local library and checked out the book John Adams by David McCullough, on which the movie was based, in order to learn more about our founding fathers and what it was like for them to gain the freedom and independence we celebrated this holiday weekend. Before shutting our doors here at Logos in order to celebrate Independence Day, we went out with a bang (of-sorts) of our own—our annual Chili Cook-Off.
Twenty chilies lined the kitchen wall by noon, each with its distinct sign, smell, taste, and toppings. It is rumored that one contestant wanted to see how well an out-of-the-can chili would fare against the homemade chilies and so he heated up canned chili.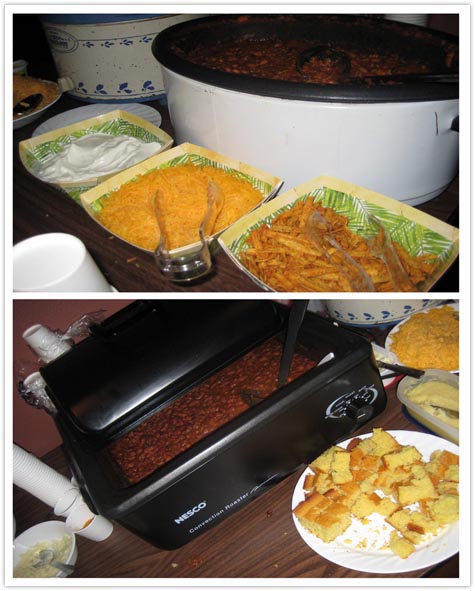 One surprising entrant in the cook off was Sarah Knepper, a Logos employee for all of three days! She is a welcomed addition to the graphics/marketing department and is clearly not intimidated around here. Nor is our Bible Study Magazine editor, John Barry. His Mama Victoria's Turkey Chili took home the win by a landslide. If his chili is in any way a foreshadowing of the magazine, we are in for an amazing treat come September. Bringing in the second place trophy was Jerry Godfrey, manager of customer service and organizer of this year's event. Third place went to D&E's Johnny Cisneros.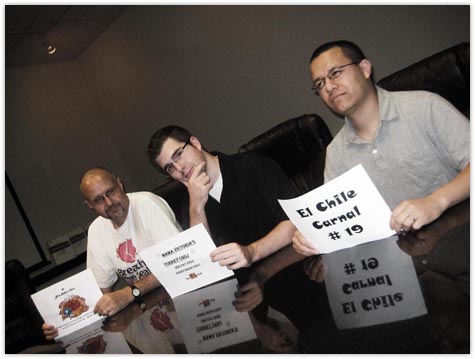 If recipes become available, we'll be sure to share them.