Today's guest post is from John Barry, the associate editor and project manager for the new Bible Study Magazine from Logos Bible Software.
Bible Study Magazine is a brand new print magazine (not an e-magazine) sponsored by Logos Bible Software. Six times a year, Bible Study Magazine will deliver tools and methods for Bible study, as well as insights from respected Bible teachers, professors, historians, and archaeologists.
Of course, we at Logos love electronic resources, but we want information on Bible study we can take anywhere—to the park, to the break room, to the bathroom, wherever! We want something we can touch, something we can browse for Bible study inspiration. We live in an electronic age, but as long as there are waiting areas in doctors' offices, there will be magazines.

Bible Study Magazine is a convenient biblical resource that will help improve your Bible study by bringing you insight from trusted Bible teachers and scholars. The writers and interviewees have spent a lifetime applying the Bible to their lives and teaching others to do the same.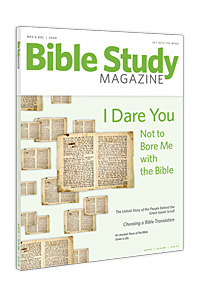 An outline of Bible Study Magazine is available at the Pre-Publication page. The first issue (Nov-Dec 2008) features:
"Mystery" interviews of two of the best Bible teachers in the church today (can you feel the suspense?)
Craig Broyles on "How the Bible Interacts with the Ancient World"
Arnold Fruchtenbaum on "What is Justification and Sanctification?"
Mark Goodacre on "How to Read the Gospels"
Daniel Wallace on "How to Choose a Bible Translation"
Plus regular "how-to" guides on Bible study tools and word studies, as well as the on-going Bible study "Facing Today with the Book of Hebrews" (great for personal or small group studies). There will also be exciting articles about how a fragment of the Bible saved a life and the untold story of the publication of the Great Isaiah Scroll.
Bible Study Magazine is interesting to the scholar, while accessible to everyone. In each issue there is something useful, something edgy, and of course, something geeky.
Was This Article Helpful?