Bible Study Magazine
, we are able to share better Bible study tips, aids, as well as thoughts about Bible study from well-loved and high profile Christians.
But, we're not just your average Christian magazine. To quote Mr. Magazine, "Bible Study Magazine is just that: a magazine to study the Bible. Some will be quick to say, so what's new about that? Aren't there plenty of magazines that deal with Bible studies and such? Well, on the surface, the answer is yes, but the more I studied (no pun intended) the new magazine, the more I saw its point of difference. It is not your grandfather's Bible study magazine."
We want this cutting edge magazine on Bible study to make its way to your public library, to provide Bible study tips and encouragement to a wider audience than ever before. Simply stated, we want more people studying the Bible.
The public library system generally does not carry niche publications—unless people start asking for them. But Bible study is so much more than a niche. That means there's one reason why a magazine about the Bible isn't in libraries everywhere: we haven't thought to ask for it yet. It's time to take a stand.
Can our magazine go places no Christian magazine has gone before? The fact that Bible Study Magazine has been in the Whatcom County Public Library System, and now is in the Bellingham Public Library (both in Washington state) says it can!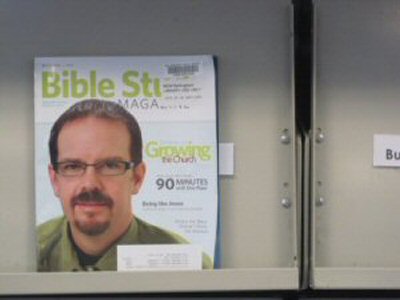 But let's not stop with Washington State; let's get Bible Study Magazine into public libraries all over the nation.
It's easy. It will take you five minutes, max. Just go to your public library's website, and find their book request form. (They probably won't have a periodical request form.)
Then enter this info and submit the form.
Title: Bible Study Magazine
Author: John D. Barry
Publication Date: 11/01/2008
Publisher: Logos Bible Software
ISBN (or ISSN): 1945-0923
Price: $14.95
Join us in making Bible study popular again. To find your local library's website, click here.