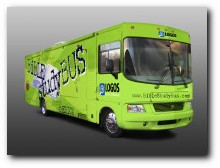 Logos is taking the Bible Study Bus back on the road this summer!
Right now we're working hard to line up host churches in cities all across the country. If you're able to open your churchor school foran event, please check the itinerary at www.BibleStudyBus.com and then fill out this brief survey with some details about your venue.
The following article should give you a flavor of what the tour will be like.
Bringing the Bible Back to America
By Mark Van Dyke and Daniel Foster
American Family Radio and Logos Bible Software want to help Americans get back into the Bible. That is why they have teamed up to create the Bible Study Bus Road Trip: America, which will travel nearly 13,000 miles around the United States this spring and summer.
A short time ago, Gary Burge, professor of New Testament at Wheaton College, reported in Christianity Today the results of a Bible literacy test his department applied to incoming freshmen. Of these students–most of whom came from strong evangelical churches–a third didn't know that Paul's travels are recorded in Acts or that the Christmas story is found in Matthew.
The crisis facing the church is not that Christians disagree with what they have studied in the Bible and what is taught from the pulpit–it's not simply that they don't believe the clear teachings of Scripture; it's that many have never heard them to begin with.
Christians desperately need to study the Bible and have it communicated clearly to them from the pulpit, but as churches turn to "spiritainment" to draw the masses, what often falls through the cracks is the transfer of doctrinal truths and/or the edification of parishioners' minds.
In a recent interview, Burge maintained that biblical illiteracy is "a universal and growing problem," among students and churches, citing the trend toward a therapeutic emphasis in preaching as part of the problem.
"There's not an educational dimension any longer. We're all about the experience, not the facts," he said. And as a result the younger generation is not learning the important stories, people and background of the Bible. This semester, Burge asked 45 seniors in an advanced class to paraphrase, from memory, the Ten Commandments. Only one student could do it.
What's to be done to remedy this situation? It's simple: study the Bible.
However, knowing where to start or how to conduct a Bible study is often an area that many Christians could use some help in. That's why American Family Radio and Logos Bible Software are embarking on the Bible Study Bus Road Trip: America. A Logos trainer will present the new ways that technology is being applied to Bible study at each free Bible Study Bus tour event.
Starting April 9, 2007 the Bible Study Bus will trek throughout the lower 48, showing Christians how to improve their own Bible study. More than 70 events will be held in large metropolitan areas and small towns alike.
Scott Lindsey, Director of Ministry Relations at Logos will travel the first leg of the trip, which starts in Portland, Oregon. Scott has been teaching at conferences for nearly 8 years.
Scott says, "Every time I present Logos at a conference, jaws hit the floor in seconds. Countless times I have had people come up to me afterwards and tell me Logos is an answer to prayer!"
"The number one excuse people give for not doing Bible study is a lack of time and Logos is the best solution for this problem," says Scott. "Not only can you do amazing Bible study in 15 minutes or less but Logos can help people dig deeper into the Bible than they ever thought possible."
The fact is that adults and children are spending more and more time in front of their computers. We work in front of the screen, entertain ourselves there, maintain relationships via E-mail, and research purchases on the web. It's only natural that the computer should become a place of Bible research and meditation. You can go straight from checking your favorite newsgroup to checking what the Bible says on the topic, painlessly integrating Bible reading and study into the daily ebb and flow of life. And when you're ready to get serious about study, all the books and tools you need are available at the click of a mouse.
And what about those people who aren't very comfortable in front of a computer? Logos has them covered. Each event is designed to be appealing to everyone from home schooling families to pastors to retirees – not just the tech savvy. For example, take the experience of Dr. David Jeremiah, president of Turning Point Ministries.
"Turning Point Ministries recently spent a day being trained on Logos Bible Software," said Dr. Jeremiah.
"I am a computer neophyte and was not looking forward to a few hours of 'tech training' – whoever scheduled this was going to hear from me. But my apprehension quickly passed as we were captivated by this amazing new technology. You owe it to yourself to find out how Logos can bring a new level of excitement and scholarship to your time in the Word."
According to Scott, "The goal of Logos is not to show off our technology but rather to show off the Word of God. All Logos does is put trusted Biblical reference books on your computer so you can find the information faster and dig even deeper into the Bible."
Knowing the Bible is the responsibility of every Christian, not just a pastor or teacher. That's why families are encouraged to attend events together. As 1 Peter 3:15 instructs, "Always be ready to make a defense to everyone who asks you to give an account for the hope that is in you." The Bible Study Bus tour was created by American Family Radio and Logos Bible Software to help you heed this simple yet challenging command.
Join Logos and American Family Radio on their mission to bring Bible study back to America. To register for the Bible Study Bus Road Trip: America please visit www.BibleStudyBus.com.