Last week I got an email with the subject line "Be kind to your older folks." Good advice, and biblical too (1 Tim 5:1-2; cf. v. 8). Here's what she had to say:
Would you please be kind to us older folks whose eyes are not as sharp as they used to be? You young programmers love 10 pt. fonts for some reason which I have never understood. Are you conserving space or something? Please make it possible for us older folks to enlarge the font size of static webpage text, especially things like our personal prayer lists. I get eye strain every day just trying to read my own prayer list, and it discourages me from using Logos for that purpose.

Thank you for your consideration and bless you for all the work you do for us.
I understand how frustrating it can be when software doesn't function the way you think it should. There's a particular feature in Microsoft Office that drives me crazy every time I use it.
We want to hear from you regarding things you'd like to be able to do and things you wish were different. We can't always implement them, and often we can't implement them immediately (though occasionally we can), but we do want to hear them. You can use suggest@logos.com or our suggestion newsgroup to let your voice be heard. We're listening.
What often happens, though, is that suggestions provide an opportunity to demonstrates features already in the software. Such is the case with this request, at least for the most part. It is possible to change the font size for prayer lists to make them more readable.
Here's how:
Open your prayer list by going to File > Open and selecting "Prayer Lists" and the particular prayer list you'd like to open.
With the prayer list opened and selected, go to View > Zoom and select something like 150%, or larger if you'd like.
Your prayer list will go from this:
to this: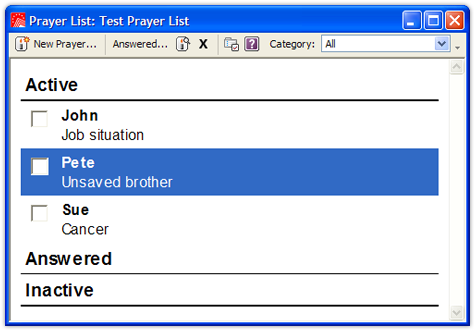 or even bigger.
If you'd like to make this change globally so that it applies to all of your resources, reports, and other documents, go to Tools > Options > General > Text Display and set your default zoom to whatever size you'd like. Make sure to uncheck the box "Use Default Zoom Only with Resources" if you'd like it to apply to things like your prayer lists.
The zoom allows you to make the font size as big as you'd like in order to make your reading—and praying—more comfortable.