A Logos user presented the following scenario to me:
I'm a traveling itinerate preacher speaking in various churches, but do revisit the same churches periodically. If I start using the Sermon Editor to archive my messages, is there a way to search the files by location so I don't preach the same sermon in the same church?
That's an excellent and very practical question.  Fortunately, the answer is yes!
First, let's take a look at how to record the venue for the message:
Choose Documents | Sermon
Notice in the Sermon Info section the Venue box on the Occasions line (A)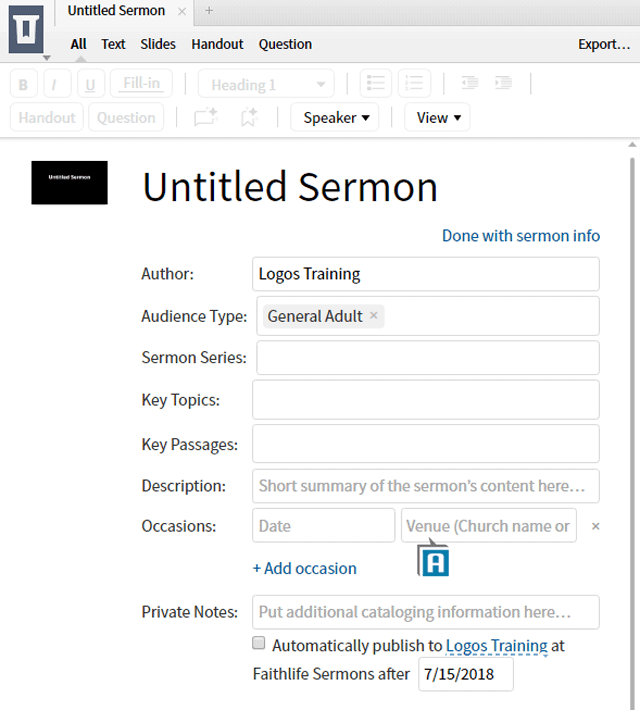 Make sure to place in this Venue box the name of the place the message was delivered such as First Church Nashville TN (B)
Remember to click Add occasion and insert a new venue for each time the message is presented (C)
Now let's examine how to search the files by venue:
Click the Search icon in the upper left of the program
Select Basic as the search type (D)
Select Your Documents from the resources to search drop down list (E)
Place in the Find box the venue for which you're searching and place multiple words within double quotes such as "First Church Nashville TN" (F)
Press the Enter key to generate the search results
Notice in the results area the sermon documents containing that venue! (G)
If this is a search you execute often, drag the tab of the open Search panel (H) to the Shortcuts bar. Now when you click the shortcut icon, a Basic Search of Your Documents opens automatically. Input your venue, press the Enter key and you're good to go!
For more information about the Sermon Editor, be sure to order your copy of the Logos Training Manuals Volumes 1-3.
Also, be sure to register for an upcoming live stream Camp Logos Inductive webinar August 13–17 or August 27–31.
And for 24/7 Logos training, check out the new MPSeminarsOnline.com website, or the Logos 7 Training Manuals Volumes 1–3 in digital.
Remember to follow Faithlife.com/mpseminars and you'll automatically receive a FREE digital download of Dr. Grant Osborne's commentary Ephesians Verse by Verse.
***

Morris Proctor is a certified trainer for Logos Bible Software. Morris, who has trained thousands of Logos users at his two-day Camp Logos seminars, provides many training materials.