Which new Christian books were popular in 2020? That list could be very long, so we've narrowed it down. Peruse five of this year's fan favorites from Faithlife Ebooks.
In a defensive and divided era, how can followers of Jesus reveal a better way of living—loving others as God loves us? How can believers be the kind of people who are known, as Proverbs puts it, to "turn away wrath?"
Scott Sauls' compelling new book shows Christians how to become people of "a gentle answer" in a politically, relationally, and culturally fractured world.
Let Them Be Kids shows parents that it's not only possible but essential to enjoy every special moment of building family values. Jessica Smart weaves together tested methods, personal stories, and witty humor to deliver wisdom on tough topics like these:
balancing family time versus outside activities
the gift of being awkward and uncool
managing technology
protecting purity
showing grace when kids disobey
and more
In Chasing Vines, Beth Moore shows from Scripture how all of life's concerns—the delights and the trials—matter to God. He uses all of them to help us flourish and be fruitful.
Looking through the lens of Christ's transforming teaching in John 15, Moore shares a panoramic view of biblical teachings on the Vine, vineyards, vine-dressing, and fruitfulness.
Even Christians are searching for happiness everywhere, but Dr. Derwin Gray reveals where to end the search—in Matthew 5:1–12. With relatable stories, accounts from history, and insight into the Bible, he helps readers mine the treasures of the Beatitudes and understand how to apply them . . .  making everyday life the good life.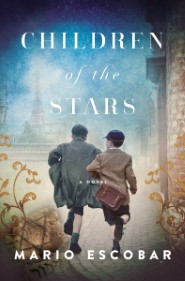 In Children of the Stars, international bestselling author Mario Escobar tells a story of escape, sacrifice, and hope amid the perils of the Second World War.
Jacob and Moses Stein, two young Jewish brothers, must flee Paris to survive. Along their remarkable journey, they meet brave souls who put themselves at risk to protect them. This inspiring novel, now available for the first time in English, demonstrates the power of family and the endurance of the human spirit—even through the darkest moments of human history.
***
Browse more popular Christian books.