Baptist Bronze contains 137 library resources you don't own.
Get them all in a Baptist Bronze base package today for only $629.99.
Logos Bible Software 7
Baptist Bronze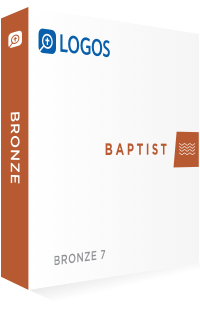 Logos 7 Base Package Combo Savings Applied
$629.99
Paid in full today
For 13 months with $50.12 down
Included in this base package
A carefully curated theological library containing 137 resources that will be added to the resources you already own.
The Logos 7 software, upgraded to include the Logos 7 Full Feature Set.
30-day money-back guarantee
Free customer support
Runs on Windows & Mac
Access library in mobile & web apps
Do More with Logos 7
Bible Study
Build a concordance of any resource to find the terms, people, and concepts that appear most often

Link the Bible story with its geography

Engage the Word with new Interactive Media
Greek and Hebrew
Instantly access Greek and Hebrew words behind the English translations

Learn to read and write Greek and Hebrew
Preaching & Teaching
Expose the structure of Hebrew poetry

Engage your audience with elegant presentations

Expose the structure of biblical narrative and thought-flow
Academic
Trace NT quotes and allusions to their OT source

Examine and compare early biblical manuscripts

Learn how the Bible was handed down through time
System Requirements
Windows
Minimum OS update: Win 7 SP1, Win 8.1, or Win 10 Anniversary Update (Version 1607)
2GB RAM
1024x768 Display
30GB Free Space - Internal HDD/SSD Only (may require additional space depending on your library)
Internet connection (for activation, updates, and some features)
Mac
OS X "El Capitan" 10.11 or higher
2GB RAM
30GB Free Space - Internal HDD/SSD Only (may require additional space depending on your library)
Internet connection (for activation, updates, and some features)