Get a Free Course This Month Only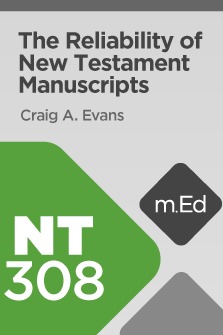 Mobile Ed: NT308 The Reliability of New Testament Manuscripts (1 hour course)
In this course, Craig Evans answers a question commonly asked about the New Testament—can we trust the manuscripts? Because the answer has serious consequences, Dr. Evans clearly outlines the history of these important documents. He discusses the quality, quantity, and age of the manuscripts and how these elements compare to nonbiblical ancient texts. He describes the practices of ancient writers and scribes and provides numerous examples to show that the manuscripts of the New Testament are reliable.
$39.99
Save 100%
Your Price: $0.00
Get an Additional Course for $9.99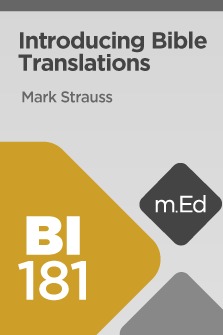 Mobile Ed: BI181 Introducing Bible Translations (2 hour course)
Bible translation expert Dr. Mark Strauss introduces the philosophies of translation in order to equip students in their selection of a specific version (or versions) of the Bible. Dr. Strauss compares functional and formal equivalence and describes the strengths and weaknesses of each. He discusses elements of language such as gender terminology, idioms, and metaphors to reveal the importance of this often-overlooked but fundamental part of preaching, teaching, and personal Bible study.
$69.99
Save 85%
Your Price: $9.99
Add a Third Course for $19.99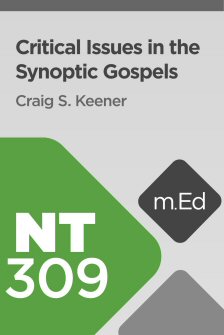 Mobile Ed: NT309 Critical Issues in the Synoptic Gospels (3 hour course)
Explore the historical reliability of the Gospels and the controversy of miracles. Probe the Gospels as biographies recounting historical information passed down through written and oral traditions and eyewitness accounts.
$109.99
Save 81%
Your Price: $19.99
This Month's Giveaway
Enter to win Mobile Ed: Text of the Bible Bundle (4 courses)-a $399.99 value!
July Free Book of the Month Giveaway
*By entering the contest, you are opting in to receive emails from Logos and Logos publishing partners.
Get updates on future Free Books of the Month
Don't Miss Out!
Each month we bring you exciting new books to build your library.
Sign up above to hear about each month's free book.