Free Book of the Month
Your October Free Book Has Arrived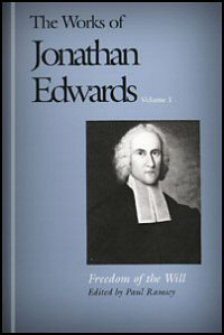 Freedom of the Will (The Works of Jonathan Edwards, Vol. 1 | WJE)
This inaugural volume in The Works of Jonathan Edwards is his major contribution to theology and stands as a leading document on Calvinist thought. Paul Ramsey's introduction provides a fresh analysis of Edwards' theological position, includes a study of his life and the intellectual issues in the America of his time, and examines the problem of free will in the philosophical context of today and in connection with Leibniz, Locke, and Hume.
$33.99
Save 100%
Your Price: $0.00
Get an Additional Book for $1.99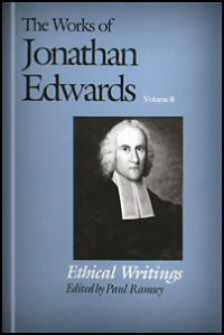 Ethical Writings (The Works of Jonathan Edwards, Vol. 8 | WJE)
This volume contains two major works of Jonathan Edwards: an unpublished text of a series of sermons he preached in 1738, known as Charity and Its Fruits, and his Two Dissertations: I. Concerning the End for Which God Created the World and II. On the Nature of True Virtue, published posthumously in 1765. Together these writings set out the principles of Edwards' ethical reflections. The text of the sermon series is drawn from three sources. The primary text is an early nineteenth-century transcription of Edwards' sermon booklets now in the Andover-Newton Theological School's collection. Passages published in Tyron Edwards' 1852 edition, and partial transcriptions by Joseph Bellamy found in three fragments among his papers, have been used where the Andover copy is incomplete. The Bellamy fragments are reproduced in their entirety in a critical appendix, along with examples showing the editor's use of the three sources in construing this definitive text for the Yale edition.
$34.99
Save 94%
Your Price: $1.99
Add a Third Book for $4.99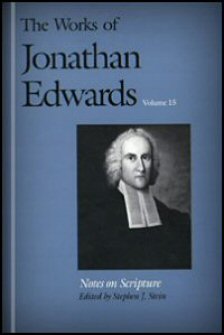 Notes on Scripture (The Works of Jonathan Edwards, Vol. 15 | WJE)
This is the first complete edition of the private biblical notebook that Jonathan Edwards compiled over a period of nearly thirty-five years. Edwards' "Notes on Scripture" confirms the centrality of the Bible in his thought and provides more balance to earlier depictions of his writings that emphasized the scientific and philosophical while overlooking the biblical dimension. In this critical edition the entries appear in the order in which Edwards wrote them, beginning with a short commentary on Genesis 2:10–14 that he penned in 1724, and ending with his last entry, Number 507 on the Book of Solomon's Song, written two years before his death. This volume provides direct access to one of America's most influential religious thinkers. Edwards' entries range across the entire scriptural canon and reveal his creativity in the interpretation of particular biblical texts and his fascination with typology. The notebook also documents Edwards' engagement with the intellectual...
$39.99
Save 87%
Your Price: $4.99
This Month's Giveaway
Archaeology of the Land of the Bible (3 vols.)
Don't Miss Out!
Each month we bring you exciting new books to build your library.
Sign up above to hear about each month's free book.