Sermon Editor
Incorporate content from your Logos resources into your presentation seamlessly and instantly transform your study into a message you can share with others with the Logos Sermon Editor. This powerful tool also simplifies creating slides, handouts, and discussion guides.
Included in Logos Silver and above
Works best in Logos Silver and above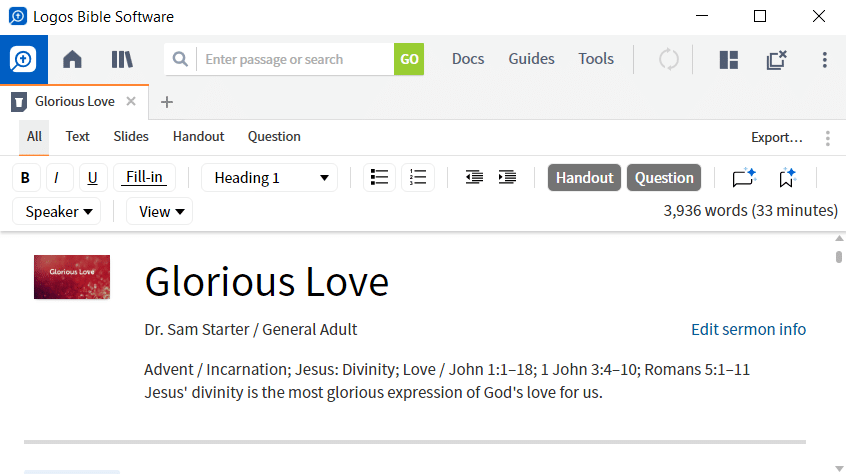 Find saved sermons fast
You and others you share with can quickly find your sermon and retrieve it in the future. Just enter some basic sermon info and relevant tags. When you include Scripture reference and topic tags, Logos adds your sermon to the various Guides for the corresponding Scripture passage(s) or topic(s). For example, if you are preparing a message on the Incarnation, add reference tags for John 1:1–18, 1 John 3:4–10, and Romans 5:1–11. The next time you search for any of these references in a Passage Guide, your sermon will appear among the resources.
Easily format your presentation
With the Sermon Editor feature, you can format your main points and subpoints in a snap and even mark up your manuscript with various highlight colors to facilitate a smooth presentation. In just a few steps, your study notes will become a finished sermon.
Add Scripture or quotes in no time
The Sermon Editor recognizes Scripture references and automatically inserts the corresponding text. If you are preaching on Jesus as the Good Shepherd from John 10, you can quickly insert the parable of the lost sheep from Luke 15. Simply enter Luke 15:1–7 into your sermon document, and Logos automatically inserts the passage. Does a different translation capture the nuance of a word or phrase? Click the hyperlinked translation to select a different version, and Logos automatically updates the text. Want to incorporate a quote from a commentary or other author? Copy and paste selections from the resource in your library in a fully-formatted and hyperlinked form.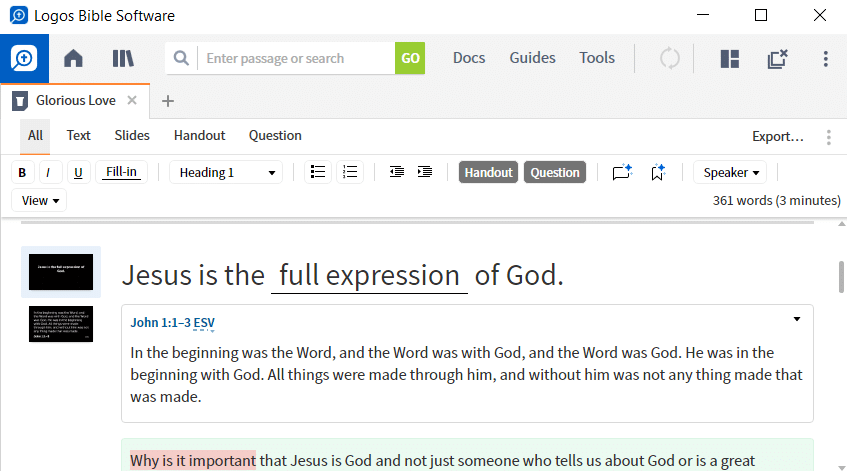 Enhance your presentation
The Sermon Editor automatically creates slides for your main headings, but you can add slides for your Scripture text with a simple click. Do you want your audience to follow along by filling in the blanks? Highlight words and phrases and select Fill-in-the-blank. The Sermon Editor creates the handout for you and if you like, a discussion guide too.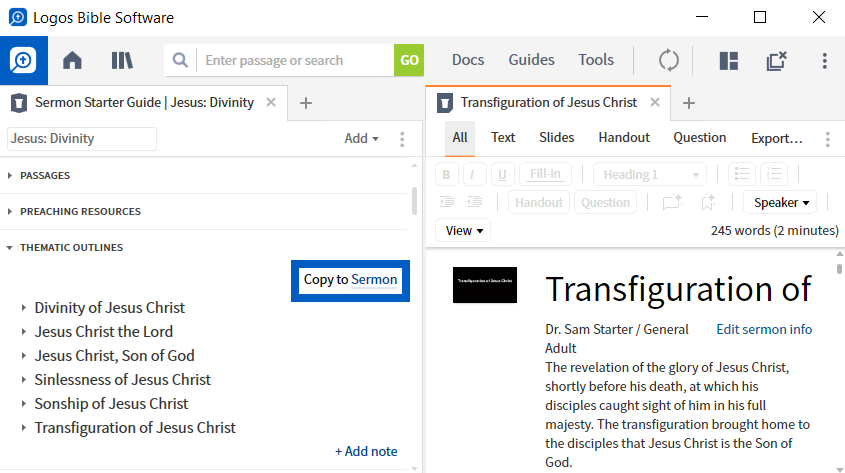 Easily edit an existing outline
With the Sermon Editor, you can modify a thematic outline from the Sermon Starter Guide or another sermon outline from your library. Just copy an outline to the Sermon Editor with a single click. Logos will open a new document using the outline, and you can add or delete content to tailor the outline to your purposes.
Finalize Your Presentation
---
Highlight and customize the text
Bring attention to key words or quotes to make them easier to read as you present in no time flat. Simply select a quote or word you want to emphasize and choose a font size or highlight color from the palette under the Speaker drop-down menu.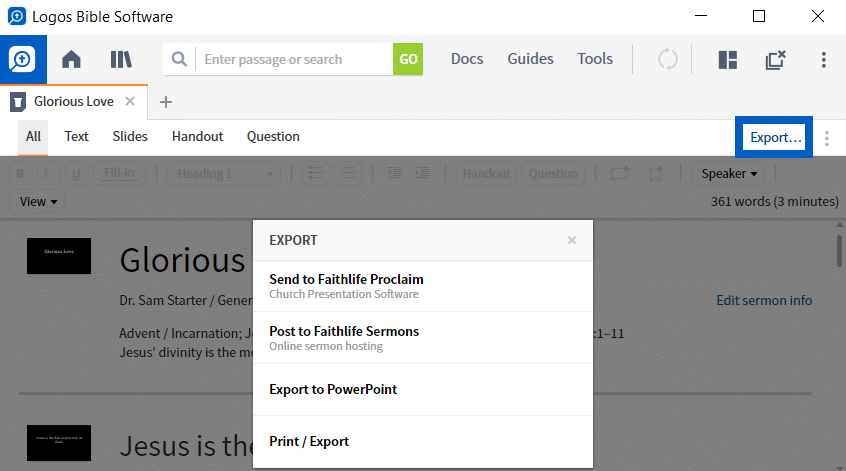 Send your message to a presentation application
Once your message is ready to present, export it to Faithlife Proclaim or PowerPoint with just a few clicks. Add any final flourishes, and you're ready to share.
Present a synced version of your finished sermon document
As long as you have an active internet connection, your presentation will be synced with the Logos web and mobile platforms. Simply open the document in your Logos mobile version and deliver your message using your iPad or another mobile device. (Learn more about the Logos mobile app.)
Get the Sermon Editor in All Logos 8 Packages