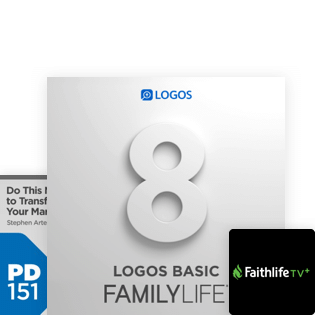 Turn TV into a discipleship tool with a 3-month subscription to Christian movies, documentaries, and kids' shows through Faithlife TV Plus.
Strengthen your marriage with a 4-hour, interactive video course from teacher and counselor Stephen Arterburn.
Ignite your family's passion for the Word with 15 digital books covering Bible study essentials.
Invest in your spiritual growth with Logos Bible Software, the personal Bible study platform recommended by John Piper and other pastors.
Learn from the heroes of the faith with a robust digital library of resources by Spurgeon, Bunyan, Luther, Hodge, and more.
Get It Free
By purchasing this product I agree to have my name and email address shared with FamilyLife, and for this information to be governed by FamilyLife's Privacy Policy and FamilyLife's Terms of use.