Biblical Studies of B.F. Westcott (10 vols.)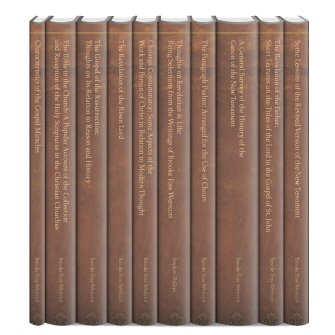 Biblical Studies of B.F. Westcott (10 vols.)
•
Se ejecuta en Windows, Mac y dispositivos móviles.
$20.00
Regular: $65.99
Impreso: $285.74
* Precio anticipado. Las ofertas futuras pueden alterar este precio.
¡Presente su oferta!
Haga clic en el máximo precio que está dispuesto a pagar. Si el precio final resulta más bajo será eso lo que pague.
Overview
Best-known as one half of Westcott-Hort, the team that produced the acclaimed Westcott-Hort Greek New Testament, Brooke Foss Westcott was also a minister and prolific writer, as well as an eminent biblical scholar. This collection fleshes out that scholarship with pastoral, as well as academic, works on studying and interpreting Scripture. From sermons and studies of the miracles and titles of Jesus used in the Gospels, to a defense of the Resurrection, to a survey of the New Testament canon on historical grounds, to a psalter arranged for public worship, this collection is rich with insights into understanding and applying the Bible to every situation and aspect of life.
In the Logos edition, the Biblical Studies of B.F. Westcott is enhanced by amazing functionality. Scripture citations link directly to English translations, and important terms link to dictionaries, encyclopedias, and a wealth of other resources in your digital library. Perform powerful searches to find exactly what you're looking for. Take the discussion with you using tablet and mobile apps. With Logos Bible Software, the most efficient and comprehensive research tools are in one place, so you get the most out of your study.
Key Features
Gathers a variety of biblical studies by Brooke Foss Westcott
Studies the miracles, Resurrection, and various titles of Jesus in the Gospels
Provides Westcott's historical survey of the New Testament canon, along with the condensed popular version
Includes Westcott's psalter arranged for the use of choirs in public worship
About B.F. Westcott
Brooke Foss Westcott (1825–1901) was a British bishop, biblical scholar, and theologian serving as bishop of Durham from 1890 until his death. Westcott studied at Trinity College in Cambridge where he graduated in 1848. He stayed at Trinity, where in 1849 he obtained his fellowship and was ordained deacon and priest. He received honorary degrees from Oxford in 1881 and Edinburgh 1883. In 1890, he became the bishop of Durham.
Westcott authored several works, including Introduction to the New Testament in the Original Greek, A General View of the History of the English Bible, Westcott-Hort Greek New Testament, and Saint Paul's Epistle to the Ephesians.