Introducing Logos 7
Fine-tuned to take you all the way from that initial spark of insight to sharing biblical truth with clarity.
Personal Bible study, sermon prep, academic research.
Get Logos 7 and do what you do even better.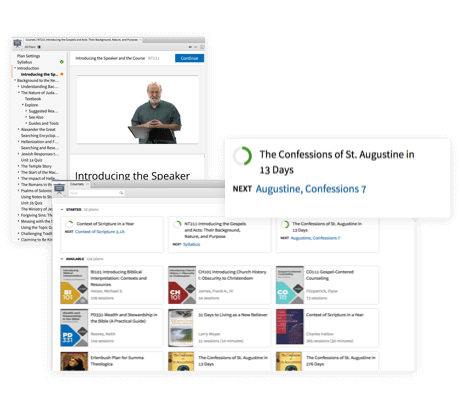 Get Started Fast
Starting your study in Logos has never been easier. Jump right into your preferred workflow with customizable Quickstart Layouts. Or choose from hundreds of carefully designed learning plans included in the new Courses Tool. Each plan pulls together essential readings, media, and even Logos features on key topics. You can even take a seminary-level class with Mobile Ed courses included in our new base packages.
Feature: Courses Tool, Quickstart Layouts
Write Your Sermon, and Everything Else Falls into Place
As you consult resources and write your sermon inside Logos, the new Sermon Editor automatically generates sermon slides and fully editable handouts based on your work. Add speaking prompts, Scripture, quotations, and more with smart editing and styling tools meticulously designed for sermon creation. You focus on solid Bible study and writing your sermon, we'll give you a headstart on everything else.
Feature: Sermon Editor, Media Tool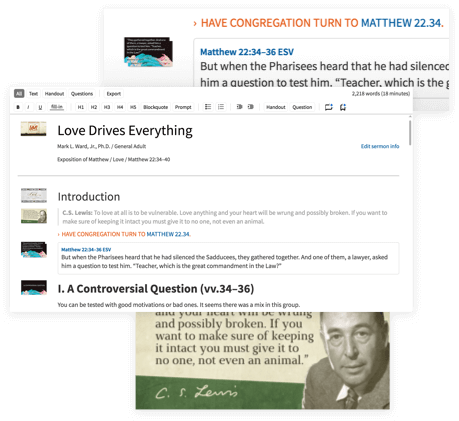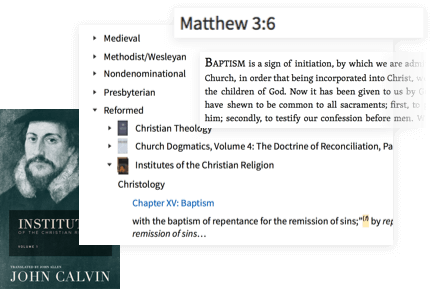 One Verse. 2,000 Years of Theology.
Glean wisdom from the church's greatest theologians without breaking the flow of your study. New sections in the Passage Guide take you straight to the most relevant sections in your theological resources. Now you can see how the passage you're studying has shaped theological thought across the centuries.
Feature: Systematic Theologies, Biblical Theologies, and Confessional Documents sections in the Passage Guide
Discover Eye-Opening Patterns in the Text
You can customize Logos 7 to automatically highlight every time an original language word is repeated. Click, and watch as your Bible lights up with patterns hidden within the original languages, and identify key themes with just a glance.
Feature: Concordance Tool, Corresponding Words dataset, Figurative Language dataset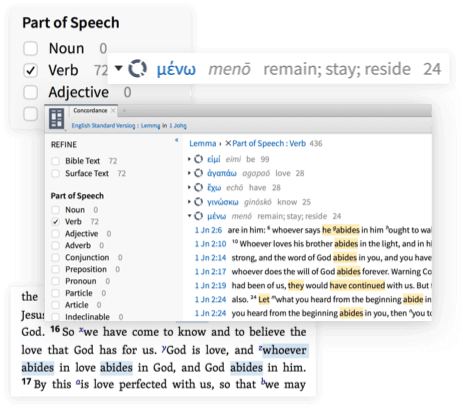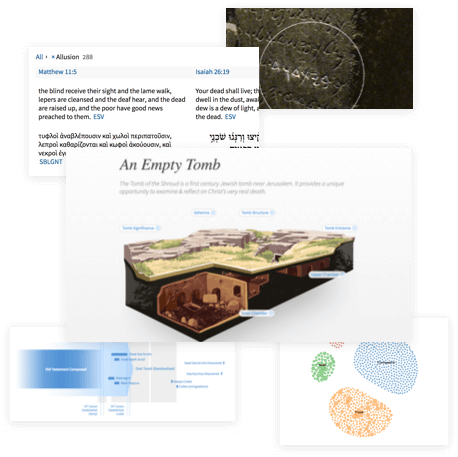 Enter the World of the Bible
Logos 7 includes stunning media that brings the world and words of the Bible to new life. Explore a first-century tomb, browse Scripture with innovative, interactive visuals, see how New Testament writers used the Old Testament, and more.
Feature: Empty Tomb, New Testament Use of Old Testament, Miracles of the Bible interactive media
Perfect for Every Type of Study
From personal devotions to preparing sermons, we fine-tuned Logos 7 to
make the study you love even better.
Logos 7 Libraries
Our new and improved libraries not only include a breadth of Bible study resources, they complement the expert study tools you can only get in Logos.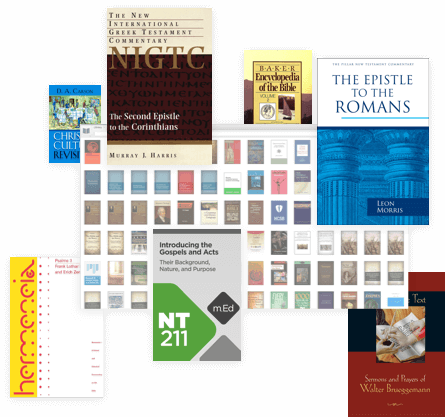 Carefully Curated, Custom Priced
We rebuilt Logos libraries from the ground up to include key books you'll return to again and again, and essential resources specially tagged to work seamlessly with Logos 7's new and improved features. And thanks to Dynamic Pricing, you'll get a discount based on any Logos resources you may currently own. You'll only pay for the books that are new to you!